Culinary offer
Socrates already knew that food and drink keep your body and soul in harmony.
We take this wisdom to heart and start every day with a scrumptious and varied buffet that includes everything your heart desires, from health food products and freshly squeezed juices to hearty dishes. Our breakfast chef will gladly conjure up any further culinary preferences if you like.


During the day our kitchen is at your disposal, be it for dishes from our menu, for a snack or for coffee and our tempting pastries - we are devoted to ensuring your culinary well-being.

The culinary highlight is our four-course menu. Our chef and his team strive to exceed your expectation each and every day. Extraordinary skill, imagination and the best, largely regional products are the ingredients that melt together to create a culinary delight and are rounded off by a wonderful wine from our well-stocked, well-tempered wine grotto.

The spectacular landscape, the deep lakes with drinking water quality and the outstanding cultural offer attract guests from all over the world to visit the local hosts in the Salzkammergut year after year. Our kitchen team keeps this in mind and hence attaches great importance to the use of local and regional products: the eggs are laid by our free-range hens, we hunt our own game and, as far as possible, regional products are used to cook down-to-earth, but also a wide range of international delicacies.
Additionally to our seasonal menu, you can also choose from our daily recommendations or
as well our daily changing 4-course gourmet menu for € 42.00 per person.
Open daily from 11:30-13:45 and from 18:30-21:00. Closed on Sunday evenings (except
for July/August). Please reserve a table by calling +43 6232 2658.
Open daily from 11:30-13:45 and from 18:30-21:00. Closed on Sunday evenings (except
for July/August). Please reserve a table by calling +43 6232 2658.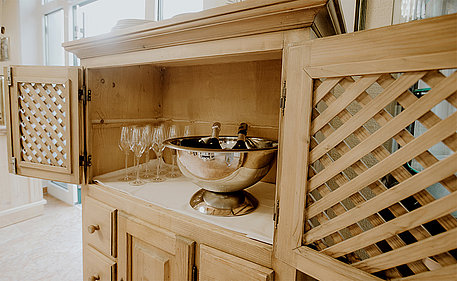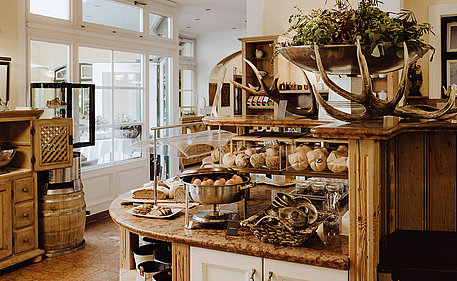 SCHAFBERG STUBE
The crackling fire and lots of light, fragrant wood combine flair and down-to-earth cosiness - You will feel right at home in the Schafberg-Stube parlour.


FIRESIDE LOUNGE
Special events require a special place. The fireside lounge will provide an exclusive setting for your private events.


LANDHAUS STUBE
Our main restaurant radiates stylish elegance and cosiness - just right for a pleasant conversation and our chef's culinary delights.


WINE GROTTO
You are welcome to taste and choose some of our wonderful Austrian and international wines in the two temperature zones of the inviting wine grotto.


HOTELBAR
Our guests, who have travelled from far away, as well as our locals come to our comfortable bar to enjoy a relaxed chat.


GUTSHOF - TERRACE
You can enjoy the beautiful weather at one of the tables outside and with a view of the nature right outside our front door. In the summer, you can spend pleasant hours here during your holiday enjoying your breakfast, afternoon coffee or even dinner in the evenings.