Foot reflexology massage
All organs, joints and muscles are reflected on the foot and can be reached in a targeted way via the corresponding nerve points. These can thus be stimulated or calmed as required.
Combo massage
Foot reflexology and back/neck massage
Kinesio Taping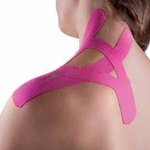 The tape applied to the skin massages the underlying tissue layers, influences pain sensors, stimulates muscle contractions, lymph flow and the joints' functioning.